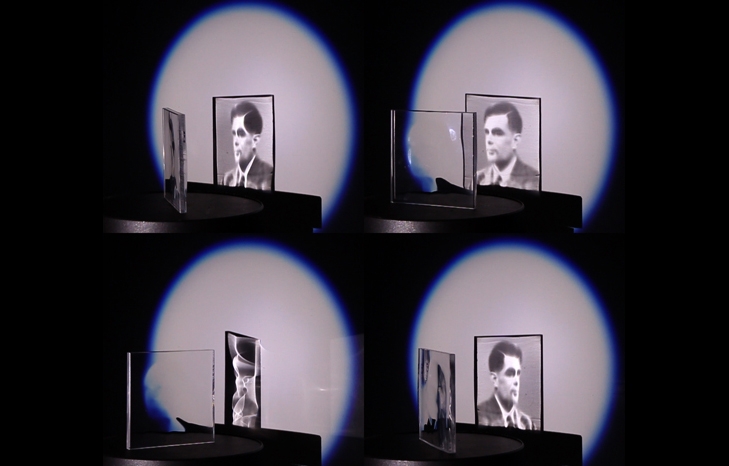 Computational caustics (courtesy of EPFL Computer Graphics and Geometry Laboratory.)
Overview
---
In this seminar, we will explore together the latest research in the emerging and exciting field of Computational Fabrication: creating novel manufacturing solutions and products with the help of computational thinking and methods.
For example,
You will see how to
Guide caustics (random shadow and highlights you see in the bottom of a swimming pool) to form arbitrary images (see the picture above), by carefully milling the surface of a transparent object.
Control the appearance of your 3D printed model, including its color, shininess or translucency.
Program your 3D print to have a desired deformation and quantify the perceived force when pressing on it.
Make your 3D printed ballerina model stand on one leg without falling, or even spin on it!
Convert your 3D mesh to machine instructions and knit a jacket for your pet with now readily available desktop knitting machines.
You will understand
Different representations of objects in their pre-fabrication stage.
Methods of creation of these objects and how the hardware works.
Modeling the interaction of fabricated objects with the world surrounding them, such as light, sound and force.
How humans, as the main arbiters, perceive the fabricated properties.
Audience
---
The seminar is addressed to students in computer science and other related fields who are interested in computational aspects of fabrication. A basic knowledge from one of computer graphics, image processing, perception, differential geometry or optimization techniques is desired, but not required.
Grading Criteria
---
40% Presentation of an assigned scientific paper.
25% Wikipedia contribution to the topics related to the presentation.
20% Discussion about the presented paper, its strengths and its limitations.
15% Active participation in discussions during the seminar.
Registration
---
Please register for this seminar by sending an email to vbabaei at mpi-inf.mpg.de. The email should include the following information:
Full Name
Matriculation Number
Current semester
Motivation to participate in this seminar
The number of participants is limited to 12.
Timeline
---
Kickoff Meeting
Vahid Babaei
Friday
4:00 PM - 5:30 PM
Campus E1 7, Room 323
Fabricating Microgeometry for Custom Surface Reflectance
Navid Ansari
Friday
4:00 PM - 5:30 PM
Campus E1 7, Room 323
Deep Context-Aware Descreening and Rescreening of Halftone Images
Sebastian Cucerca
Friday
4:00 PM - 5:30 PM
Campus E1 7, Room 323
Dip Transform for 3D Shape Reconstruction
Manoz Banda
Friday
4:00 PM - 5:30 PM
Campus E1 7, Room 323
Deep Multispectral Painting Reproduction via Multi-Layer, Custom-Ink Printing
Anna Twelsiek
Friday
4:00 PM - 5:30 PM
Campus E1 7, Room 323
Microstructures to Control Elasticity in 3D Printing
Elif Akata
Friday
4:00 PM - 5:30 PM
Campus E1 7, Room 323
High-contrast Computational Caustic Design
Daniel Gusenburger
Friday
4:00 PM - 5:30 PM
Campus E1 7, Room 323
InverseCSG: Automatic Conversion of 3D Models to CSG Trees
Ferdinand-Dennis Jost
Friday
4:00 PM - 5:30 PM
Campus E1 7, Room 323
A Compiler for 3D Machine Knitting
Anastasia Salyaeva
Friday
4:00 PM - 5:30 PM
Campus E1 7, Room 323
Spec2Fab: A Reducer-Tuner Model for Translating Specifications to 3D Prints
Jingyi Wu
Friday
4:00 PM - 5:30 PM
Campus E1 7, Room 323